Nurses are a unique bunch. You love to give back to others, and don't really expect much in return. But for the holidays, you should expect at least a little something. If you're not sure what to ask for, direct your friends and family to this article!
We put together some ideas of fun gifts for nurses, nursing students, assistants, or anyone else in the medical care field. We know how much you all do for others throughout the year, the holidays are your chance to get a little something in return.
Many of these items are just plain fun, others are relevant to the nursing profession. Let us know if you receive any during the holidays by commenting below!
Nurse Clipboard
Sure, it looks a bit nerdy, but once you're on the job and need to be taking notes while walking around, while also having a few extra papers stashed away you will love this thing. Be careful, your coworkers may want to steal it.
Travel Mug
Early mornings, late nights, long days, nurses know the pains of lack of sleep and exhausting hours. Grab this travel mug which keeps coffee hot for up to 8 hours!
True Stories of Becoming a Nurse
This book is great for students or those just starting out.
Aeropress
If you need something a little stronger than that watered down coffee from the communal pot, get the Aeropress. Just add your grounds and hot water, push down, and you've got fresh coffee!
Art Prints
You need a little motivation before and after a day of work. Grab a few of these nursing inspired prints to put around the house.
Chicken Soup for the Nurse's Soul
Everyone needs a little inspiration now and then, especially nurses. This book has 101 stories of appreciation and wisdom for nurses.
Otterbox
Running around on the job is not safe for delicate smartphones. Put your phone in an Otterbox to prevent cracked screens.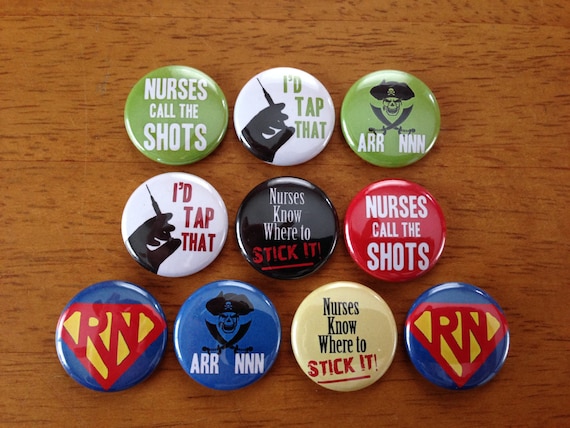 Nurse Buttons
Add a little fun to your scrubs or bag with these nurse pins. Give a few to nursing friends as well.
Ok nurses! Which of these gifts are you going to ask your friends and family for? Or better yet, which are you going to give to your fellow nursing friends? Let us know in the comments below! And feel free to leave your suggestions as well.